Here some of my favorite books and magazines.
Most of these books (and lots more) are available at robotmarketplace and Amazon
These first two books are must have.  Tons of great info!
Mobile Robots: Inspiration to Implementation
This book was one of the most important books I read on robots.  You MUST read this book!
I read the original verison by Gordon  McComb.  I've since seen a 4th editon, which I hear is great, and this latest one by Gordon McComb and Myke Predko, who are two of my favorite robot authors.  I've read several books from each of them.  Tons of practical info in this book!
A great book when you are ready to go to the next level of detail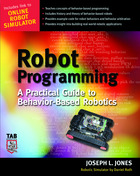 Robot Programming: A Behavior-Based Approach
Another good one.
Practical Electronics for Inventors 
Great info, pretty much a crash course on electronic circuits.
Lots of good stuff for beginner and intermediate robot builders, and they have both print and online versions that you can search!  And, yes, that is Loki on the cover! 🙂
By the same publisher as Servo, this is a more general electronics hobby magazine, but has lots of good ideas.